Icarus revealed to be Bioshock: Infinite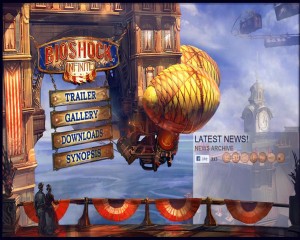 Well, today's the day. Today is the day that whatisicarus.com finally reveals its secrets. It's not System Shock 3, and it's not a new IP. No, it's another Bioshock game. Now, some may groan, and some may moan, but wait! This is not your typical undersea fare you've grown to expect out of the series. No, this game, this "Bioshock Infinite", is set in a new place. This game is set in Columbia, a city in the clouds. A synopsis, straight from the website:
"BioShock Infinite is a first-person shooter currently in development at Irrational Games, the studio behind the original BioShock (which sold over 4 million units worldwide). Set in 1912, BioShock Infinite introduces an entirely new narrative and gameplay experience that lifts players out of the familiar confines of Rapture and rockets them to Columbia, an immense city in the sky.
Former Pinkerton agent Booker DeWitt has been sent to rescue Elizabeth, a young woman imprisoned in Columbia since childhood. Booker develops a relationship with Elizabeth, augmenting his abilities with hers so the pair may escape from a city that is literally falling from the sky. DeWitt must learn to fight foes in high-speed Sky-Line battles, engage in combat both indoors and amongst the clouds, and harness the power of dozens of new weapons and abilities."
Judging by the logos at the bottom of the screen, Irrational is sticking with Xbox 360, PC, and PS3 as their platforms.
This news is not exactly what I was expecting. Personally, I was hoping for a new IP. However, I'm glad the franchise is moving someplace other than Rapture. Another story set down there is not what the series needs. What do you think? Is it too soon for another Bioshock announcement? Will you pick it up? Let us know in the comments.