Got Sin? There's an app for that: Roman Catholic Church approves Confessional App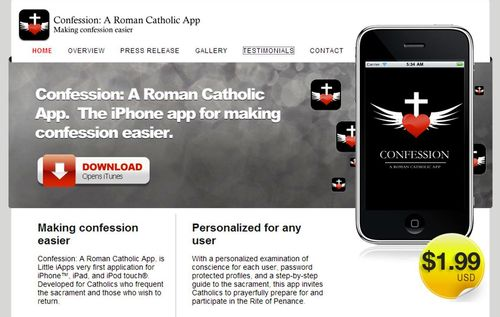 Are you a sinner? Don't worry, there's an app for that. The Roman Catholic Church has approved a recent iTunes addition called Confession, a $1.99 app that bills itself as "the perfect aid for every penitent." As you can see below, it lets you pick a commandment and tick off all your sins, keeping a running tally to bring into the confessional with you — a sort of anti-tasklist, if you will. Can't find your particular misstep? No problem! You're able to add your own, custom dastardly deeds, filling in those gaps the app's authors didn't think anyone would fill. Now all it needs is a random sin selector: shake the phone to instantly get a wicked suggestion. That certainly could make boring Thursday nights at the dormitory a little more exciting. As reported by Engadget.
My 2 cents: I am a man of Faith, but seeing something like this makes it hard not to feel disenchanted as to how the degradation of God in modern society has become reduced to nothing more than an application that can be selected whenever and adapted to whatever the user sees fit, that is all.