My life without a PC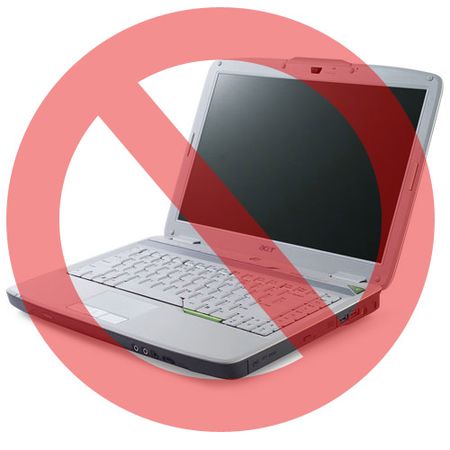 I have been without a dedicated computer for around six months now.  The main reason why I decided against getting a new computer for Christmas was my iPod touch. In fact I got a new iPod touch instead. My iPod touch is my dedicated computer. Sure it doesn't have flash and it can't do some of the things that a dedicated computer can do, I do miss being able to download some things every now and then. I've spent the last week weighing up the pros and cons of having a dedicated computer instead of or as well as a device like an iPod or iPad. Here is what I came up with.
In the last year we have seen tablet PCs like the iPad and Galaxy tab overtake the sales of dedicated computers. Is this a trend that will continue, making the home computer extinct? I think so.
So long as Apple is in control this may not happen. To be more precise, so long as you need to sync your device to a computer to get it up and running this can't happen.
I used the family computer to transfer everything from my old iPod to my new iPod and I haven't needed a computer since. I charge my iPod via my PS3 and have a USB wall charger on its way from Amazon.
My iPod holds everything I have. I don't even use a phone anymore because I don't need to, even though my iPod touch cannot, technically, make phone calls. When my iPod can do everything a computer can do why do I need a computer?
Media
My entire digital media library is on my iPod. I download everything from iTunes. Music, TV, films and podcasts are all available to download directly to my iPod. Best of all I skip the computer side of things because there is no need to download it to my computer and then wait for it to sync to my iPod. So a computer isn't needed so long as what I want is available on iTunes, which it often is.
Web Browsing
The iPod touch has the best browsing experience I have ever seen on a portable device. It's fast, simple and with more and more websites having mobile versions it is more often than not a more concise way of getting what you want from the Internet. Not having flash is a deterrent for most people although HTML5 is fast becoming the norm as websites rush to make their content available to the ever-growing mobile market. The web browsing on an iPod touch still doesn't offer as much as a dedicated computer can. Maybe in the next year or two tablet PCs can do.
Programs
The closest thing the iPod touch has to offer in terms of dedicated programs is the app store. Sure the app store often has stripped down versions of programs like Photoshop and iMovie but unless you are doing very intense work then why is that computer version needed? The Motorola Atrix will be releasing sometime in 2011 and that is a computer in your pocket. It is an Android dual core phone that can be docked so it becomes a PC should you really need that. This is the future of the home computer. I am a Media student and although I do need the iMacs that we use for video editing I would wager that I could get by with just my iPod, the Word processor on it and the stripped down iMovie.
Wrap Up
I do not need a computer, as shown above. I am not saying that everybody is the same as me and has the same needs as me. I think that somebody somewhere will, for the next couple of years, need a dedicated computer. As more and more phones and tablets are released that can match computers I think we will see people opt for this option. Imagine, in 2011 we have dual core phones what will we see in 2012, 2013 or 2014? Heck even the NGP has quad core processors, in 2011. We're rapidly moving into the future of Star Trek type technology and I for one am excited.