Batman: Under the Red Hood(Review)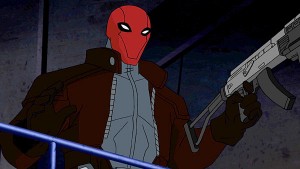 Its been a while since I've viewed anything with The Dark Knight himself. And even then it left a bad taste in my mouth with Justice League: Crisis on Two Earths. Still Batman has been one of my favorites so I figured I'd give Under the Red Hood a viewing. I am breaking this down into three parts. Animation,Voice Acting, and Story will be my three categories for this review. And I will not spoil the story.
Animation
The animation seems a bit off from how I'm use to seeing Batman animated. Batman and Nightwing both look decent. The Joker looks horrible. He looks like he is a drug user. Red Hood looks the best out of all the characters. The main problem I have is the way Bruce Wayne,Alfred, and Dick all look pretty bland. They defiantly focused more on the heroes then their real life identities.
Voice Acting
The voice acting is somewhere in the middle of good and bad. Batman/Bruce Wayne is done pretty well. Its not as good as Kevin Conroy, but way better then others. The Joker is pretty bad. The Joker is voiced by John Di Maggio which is best known for his roles as Marcus Fenix from Gears of War and Bender from Futurama.  Di Maggio is great at those roles, but just not a good Joker. Neil Patrick Harris is good voicing Nightwing. Red Hood's voice is pretty good as well. Overall the voice acting is pretty good,but has a few issues.
Story
The story is pretty generic. The big reveal about Red Hood happens halfway,if not less, through the story. They have recycled a lot of stuff for this story. There was one twist towards the end that was rather cool. Since this is a spoiler free review there's not much to say more besides it was good enough to keep me watching.
Overall
The problems didn't effect me too much. As a Batman fan I rather enjoyed this animated movie. I would suggest anyone interested to give this a viewing.  I give Batman: Under the Red Hood 3 out of 5.