You will be able to Kinect for $150 this fall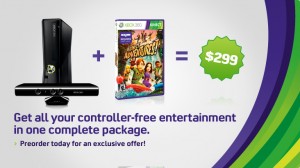 Poor puns aside, this morning Xbox Live's Major Nelson broke the news on his blog that the Kinect motion sensor for the Xbox 360 will be $150 and come bundled with Kinect Adventures. Alternatively, You can get a bundle with one of the new 360 Slims (with a 4 GB hard drive) for $299. Of course, Sony already announced their pricing and bundles back at E3 ($100 for camera, motion controller, and game, or $399 for all that plus a PS3), although none of those come with the $30 navigation controller that players may or may not be needing in the long run.
So, Kinect comes out of the box multiplayer-capable, while the Move bundle only enables one player. Though, if you already have a Playstation Eye, then that price may be even less. So what do YOU think, readers? Kinect or Move? Dance Central or Sorcery? Perhaps both? Perhaps neither? Let us know what you think in the comments.
Source: Majornelson.com