Darkness II: Confession Comic for Free!
// //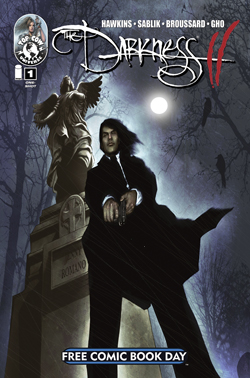 2K Games and Top Cow Productions have teamed up to produce a free comic book tie-in for The Darkness II. The Darkness II: Confession will be distributed to indie comic book stores worldwide on May 7th, Free Comic Book Day.
Confession is a 32-page comic that serves as a prequel to The Darkness II. It introduces players to Jackie Estacado, a hitman that wields a supernatural force known as The Darkness. The comic chronicles the events of the first game and then sets up the sequel. Free Comic Book Day is an annual event in which select comic book shops around the world give away comic books to customers for no charge. This is the tenth year of the event, which is held on the first Saturday of every May. Top Cow is a Silver Sponsor of Free Comic Book Day 2011.