TV Spotlight – The Big Bang Theory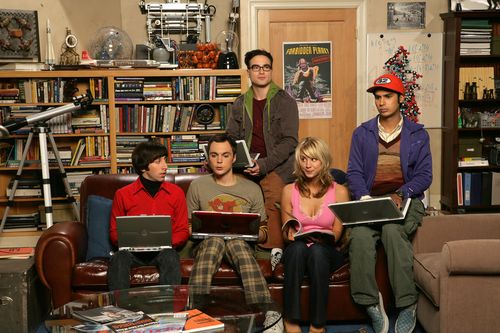 "A fear of heights is irrational.  Fear of falling however is prudent and evolutionary"
Ok so when I was thinking about what I would want my first article on this site to be I thought, what is universally appreciated by geeks?  It came to me almost straight away, The Big Bang Theory.  This has been one of my favourite TV shows in the past few years just because it works on so many levels.  I came across it by total fluke, flicking through the channels after my wife had gone to bed and I paused and thought….is that David from Roseanne??  I laughed to myself for a moment and thought wow I bet this is pants, after literally 30 seconds of watching I realised I could not have been more wrong.  After getting really into the first season I decided not to get too attached as I thought not enough people would "get it" to justify a second season.  Again wrong!  Season Four recently out in the UK and the show picking up awards and nominations left, right and centre this is THE show for a geek of any level.
The show itself is centred around the two main characters of Leonard (Johnny Galecki) and Sheldon (Jim Parsons) who are University Physicists sharing a flat in Pasadena, California.  They are supported by co-workers and fellow geeks Raj (an Indian Astrophysicist who is unable to talk to women) and Wolowitz (a horny Jew still living with his Mum).  The female interest in the show is the lovely Penny (Kaley Cuoco) who moves in across the hall from Sheldon and Leonard at the start of season one.  The series follows our four hapless geeks trying to struggle with all that life has to offer, in particular the interaction between Leonard and Penny.  We regularly see Leonard fumbling over his words trying to find common ground with the beautiful young aspiring actress that has just moved next door, being in a new town and short of friends she quickly integrates into the very strange social circle.
In my opinion this show has something for every level of geek, there is tons of reference to geek culture whether it is the guys having a Halo night, discussions on comic books, playing Collectable Card Games, Age of Conan and World of Warcraft.  There is literally tons of one liners most of which come from my favourite character in the show Sheldon.  He is a neurotic Trekkie with little understanding of human emotions and relationships as well as an unreal superiority complex.  He is curious by Leonards unrealistic attraction with Penny and she is often the source of his witticisms due to her Community College Education and raising in Nebraska.  While Leonard and Penny attempt to develop a romantic relationship Sheldon and Penny seem to develop a growing mutual understanding of each other despite each considering the other almost their total opposite.
I don't want to go into the plot too much as I hate it when reviews spoil storylines.  All in all I cannot say enough good things about this show, it is so easy to watch and it makes me proud to be a geek.  Keep an eye out for some great cameo appearances throughout the Seasons from other TV show stars Sara Gilbert, Wil Wheton, Summer Glau, Sara Rue and Laurie Metcalf to name a few.  Overall I really think this is a show on the rise and while it may not yet have the mainstream popularity other shows like Scrubs enjoys it should be about for years to come.  If you have not seen it you have a lot of catching up to do but it is well worth it!
Have you seen Big Bang Theory?  If so what's your take on it?