Halo Reach Max Rank cap lifted
Not to long ago it was posted on Bungie.net that once the Halo Reach community reached (no pun intended) 117 million daily/weekly challenges completed, that the max rank cap would be lifted. It was reported that sometime in the month of November Bungie would remove the cap that shows Max rank once you obtain the rank of Lt. colonel grade 3. Some have endlessly been watching the ticker on bungie.net that has be quickly approaching the finish line. Well Halo fans the wait is over I received a text from a source and verified that the cap is indeed off.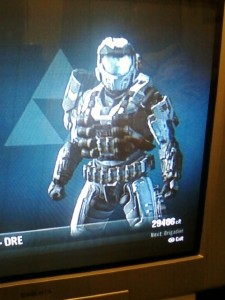 One other thing to note is if you have already achieved the max rank of lt. colonel grade 3 and continued to complete challenges or just played the game, all of your precious cR that you accumulated will not be lost. For those of you who are maxed out you may see your rank go up several times over once you log back into your next Halo Reach game session. Here is a listing of all the ranks with the corresponding cR needed for each one.
Private                             7,500 cR (+7,500)                            
Corporal                         10,000 cR (+2,500 cR)                      
Corporal Grade 1        15,000 cR (+5,000 cR)                      
Sergeant                         20,000 cR (+5,000 cR)                  
Sergeant Grade 1         26,250 cR (+6,250 cR)                    
Sergeant Grade 2       32,500 cR (+6,250 cR)                      
Warrant Officer           45,000 cR (+12,500 cR)                  
Warrant Officer Grade 1    78,000 cR (+33,000 cR)           
Warrant Officer Grade 2    111,000 cR (+33,000 cR)          
Warrant Officer Grade 3    144,000 cR (+33,000 cR)          
Captain                              210,000 cR (+66,000 cR)          
Captain Grade 1             233,000 cR (+23,000 cR)              
Captain Grade 2              256,000 cR (+23,000 cR)             
Captain Grade 3            279,000 cR (+23,000 cR)              
Major Grade 1                350,000 cR (+25,000 cR)           
Major Grade 2               375,000 cR (+25,000 cR)             
Major Grade 3               400,000 cR (+25,000 cR)             
Lt. Colonel                      450,000 cR (+50,000 cR)           
Lt. Colonel Grade 1     480,000 cR (+30,000 cR)             
Lt. Colonel Grade 2    510000 cR (+30,000 cR)               
Lt. Colonel Grade 3    540,000 cR (+30,000 cR)              
Commander                  600,000 cR (+60,000 cR)            
Commander Grade 1  650,000 cR (+50,000 cR)               
Commander Grade 2  700,000 cR (+50,000 cR)              
Commander Grade 3  750,000 cR (+50,000 cR)                
Colonel                             850,000 cR (+100,000 cR)        
Colonel Grade 1            960,000 cR (+110,000 cR)           
Colonel Grade 2            1,070,000 cR (+110,000 cR)       
Colonel Grade 3           1,180,000 cR (+110,000 cR)         
Brigadier                        1,400,000 cR (+220,000 cR)      
Brigadier Grade 1       1,520,000 cR (+120,000 cR)          
Brigadier Grade 2      1,640,000 cR (+120,000 cR)           
Brigadier Grade 3      1,760,000 cR (+120,000 cR)          
General                          2,000,000 cR (+240,000 cR)     
General Grade 1         2,200,000 cR (+200,000 cR)        
General Grade 2         2,350,000 cR (+150,000 cR)         
General Grade 3         2,500,000 cR (+150,000 cR)       
General Grade 4         2,650,000 cR (+150,000 cR)        
Field Marshall             3,000,000 cR (+350,000 cR)        
Hero                                3,700,000 cR (+700,000 cR)    
Legend                           4,600,000 cR (+900,000 cR)    
Mythic                           5,650,000 cR (+1,050,000 cR)  
Noble                             7,000,000 cR (+1,350,000 cR)  
Eclipse                         8,500,000 cR (+1,5000,000 cR)  
Nova                             11,000,000 cR (+2,500,000 cR)
Forerunner               13,000,000 cR (+2,000,000 cR)      
Reclaimer                  16,500,000 cR (+3,000,000 cR)