"'I dwell in darkness without you' and it *went away*?" – Rediscovering Willow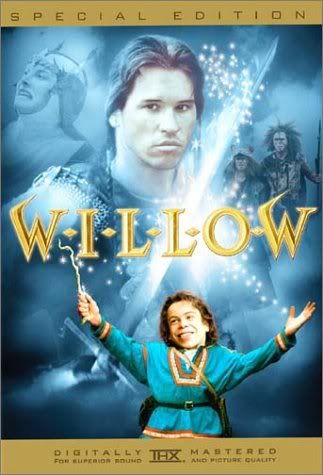 Last night while we were waiting for the rest of our RPG group to arrive, three of us decided to relax and watch "Willow". I'm not sure why I had the sudden urge to watch this movie but I'm now glad that I carted it along with my Mage books and character sheet.
It's been a few years since I actually sat down and watched the movie through from start to finish. Last night reminded me of why I fell in love with this movie when I was little. There are so many moments that still have me laughing, captivated or even drooling.
The basic synopsis is similar to many fantasy tales. A child is born that is prophesied to bring down the evil Queen. As she searches for the baby in order to kill it and save herself the child is hidden. She's found by Willow, a farmer and apprentice sorcerer. The movie follows his quest to try to first pass the child to one of the "taller folk" since she's one of theirs and then as he tries to bring the child to safety. Along the way he gains the help of two sarcastic Brownies and "the greatest swordsman that ever lived", Madmartigan.
Now, on to the things that I love!
First, how could I have forgotten the Brownies? The pair that travel with Willow seriously had me with tears in my eyes from laughter. They are some of the most amusing characters in the movie. I'd love to see someone at a convention dress as them and claim that Willow screwed up a spell and made them large. These guys are not only comic relief but they also get to bring the cavalry at the essential moment in the film.
I also can't forget to mention the snow ball. Such a perfect cartoon-ish moment!
The whole plot of the movie, the names of characters and places, and the trials that it takes to get through the journey are amazing. I will never fail to be amazed by the world that was created for this film. Last night I learned that several novels were written that helped expand the universe. I must now find and read them!
The score is done by James Horner (the man behind the music of Star Trek) and is appropriately epic. I actually had to comment several times on it while re-watching the movie and my sentiments were echoed by my friends. As we have to note, James Horner does love his strings!
And of course, who can resist Val Kilmer as the long haired Madmartigan? I might have to agree with my friend, Amanda, who expressed the sentiment that Val Kilmer in that role may have started her love of men with long hair. Seriously, the entire movie that man is not only one of my favorite characters with his sarcasm and wit but he's somewhat of a badass as well, and extremely easy on the eyes. His encounter with Sorsha in her tent where he raves about love leads to some of the best moments later in the film (such as the line that is the subject of this post).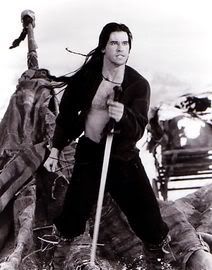 I guess my greatest joy about re-discovering this movie is that I love it even more now than I did when I was younger. Though the magic may be gone from the newer George Lucas films, it's still alive and well in "Willow".
Thoughts? Loved it? Hated it? Agree with Amanda and I that Val Kilmer is extremely drool-worthy? Drop me a line!