"L, do you know Shinigami love Apples?"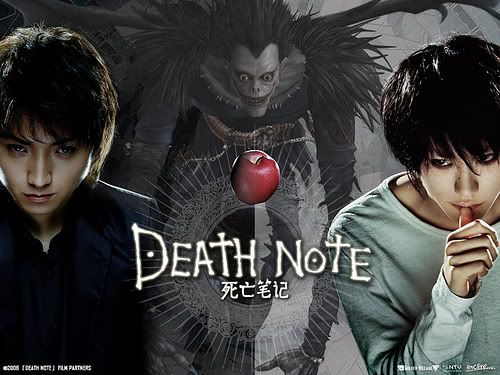 I'm usually very wary of movie adaptations of books, comics and anime…and with good reason (I mean, look at the Harry Potter movies). So it was with a bit of trepidation that I watched the first Death Note movie. At that time I hadn't finished the entire anime so I didn't quite know what to expect. Yes, certain plot points veered from the anime (much in the same way that the anime veers from the manga) but overall the movie stayed true. Heck, the final scene of that first movie was an epic moment in and of itself. I actually pumped my first in the air when watching it for the first time and cheered.
The second movie "Death Note 2: The Last Name" picked up immediately after the first one and continued the plot line. Again, it veered, but this time in ways that I not a single problem with. Trust me, if you're an L fan then you'll love the second movie.
Then a third movie was released and this one I was lucky enough to catch for a one night showing in theaters with the subtitled version. This one was called "L: Change the WorLd" and it also picked up immediately where the previous movie left off. Even with the chatterboxes behind me in the theater, I totally enjoyed this movie that gave us a deeper look into L's character and mannerisms. (It was also creepy that I saw this in theaters just before the Swine Flu outbreak…if you've seen the movie then you'll know why that was creepy timing.)
The actors that were chosen for the various roles impressed me. I was quite happy with all of the choices and extremely excited that the seiyuu for Ryuk reprised his character. After all, that Shinigami just wouldn't be the same with a different voice.
I'm also totally convinced that Matsuyama Ken'ichi is the perfect live-action L. He had the posture, the mannerisms and the look completely down pat. Even L's way of sitting (or "perching") was perfect.
If you loved the anime series (especially if you loved the first half best or are a giant L fan) then you'll adore the films. Even if you loved the second half of the anime (and I'll forgive you for that) you'll still enjoy the films. They're even a good starting point for folks who haven't seen the anime and aren't sure when they'll have time. The movies are good as stand alone sources for the series and yet compliment it extremely well when you've been able to watch it all.
Any thoughts or opinions? Favorite parts of the movie? Hated them with a passion? Drop a note!